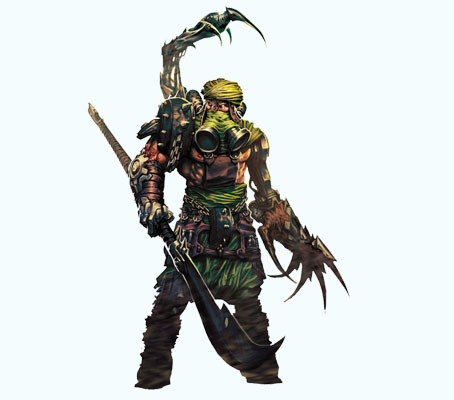 Antes de llegar a la primera meta del Indiegogo han anunciado unos pequeños goodies para los participantes, una miniatura exclusiva para los que participen en el Indiegogo además de mostrar más cosas.

For easier undestanding of our project's perks, here are 2 overviews of both regular and limited amount perks
Regular Perks
(click on picture to enlarge)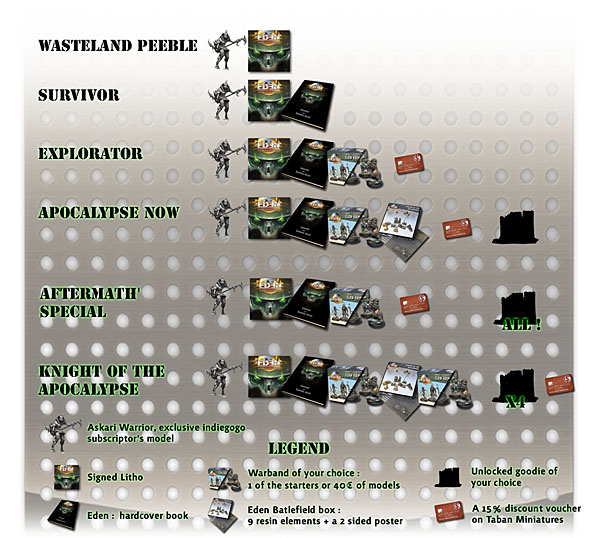 Limited amount perks
(click on picture to enlarge)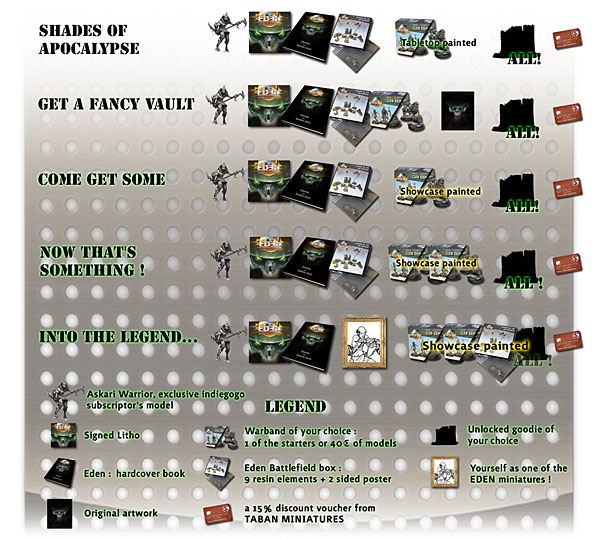 Besides the original perk, we would like to reward the contributors if our initial funding need is met and if it raises above this limit !
Each time that we will reach a given Stretch goal, we will invest in a new goodie, most of the time exclusive to this Indiegogo project.
These Add-ons will enhance the gaming experience of the contributors and allow them to play EDEN with style !
The path finder below will show you what we are up to :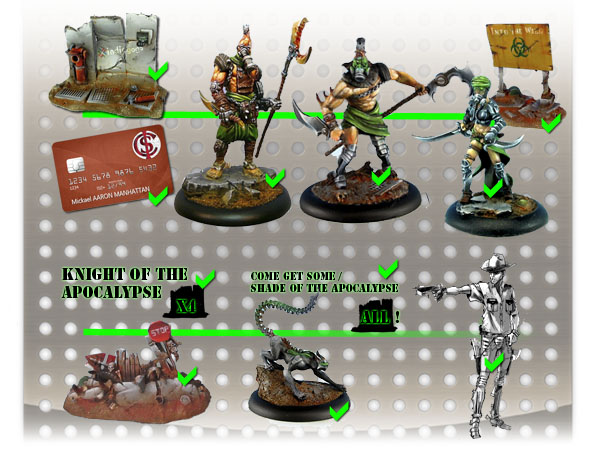 LOOT THE VAULT SAFE : We made is ! Thanks to our contributors we are half way to get funded...
The vault safe is open and the wasteland lays beyond !So, what was the content of this first strech goal ? One goodie ?
NO Survivors .... A DOUBLE goodie and a bonus !
You have unlocked :
a great resin scenery element " The Wall", sculpted by Remi Bostal, that will only be available on this Indiegogo !
a resin cast of a fighter from our upcoming EDEN faction, the ASKARIS
Although the miniature is scheduled in the December starter Box, this version will get a set of arms, weapon and head exclusively sculpted for indiegogo !
a Bonus Voucher, that will grant all the contributors of perks "Survivor" and above, a 15% discount on Taban Miniatures webshop ! A great oportunity for those who will get into our game and follow the waves of releases
ASKARI WARRIOR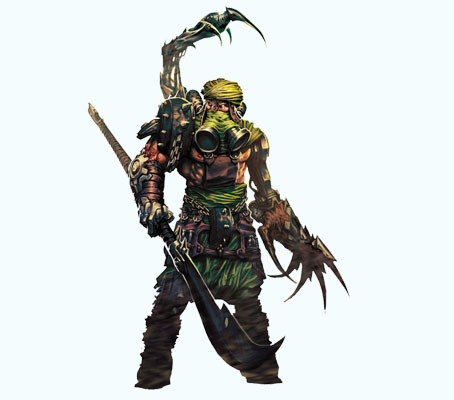 THE WALL

So what's next ?
If we reach the 5000€ funding goal, Mohand wants to acknowlege the contributors and reward them with a very special gift !
ALL the contributors will recieve a resin copy of a fine miniature, sculpted and casted as an Indiegogo only model.
Check below the original concept art designed by Bertrand Benoit :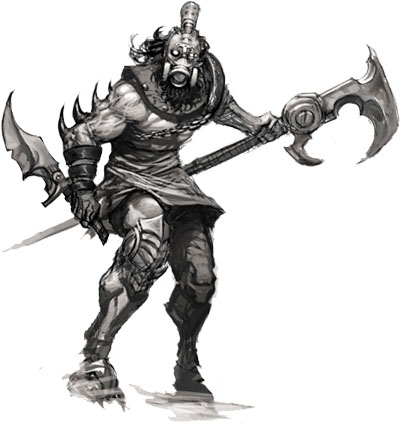 Beside, you will unlock a second twin goodie : scenery element + miniature...
Stay tuned and spread the word !
With a little help, we will celebrate Eden's third birthday with this great book and get it shipped in a timely fashion for Xmas !
Apocalypse is getting close, we all need to get prepared !